UPS® FlightPath Program
Are you ready to take your career to new heights? In our UPS® FlightPath Internship, you'll benefit from unique hands-on experiences and develop highly desirable professional skills. Our carefully crafted program will expose you to challenging, rewarding work in an environment that supports your professional development. And you'll be immersed in a UPS culture that emphasizes personal integrity, quality work, knowledge sharing and a commitment to the communities in which we operate.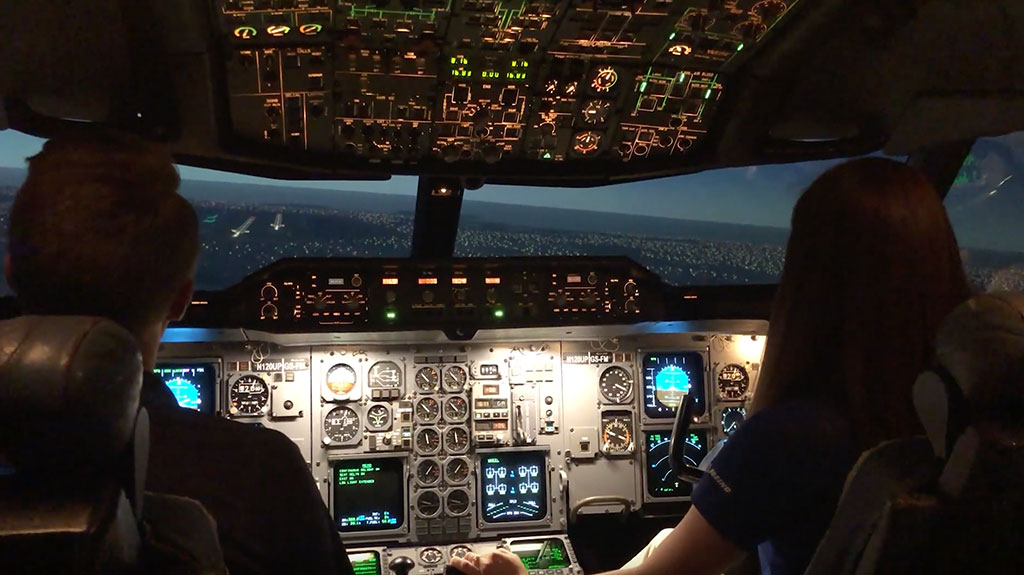 Option 1:
UPS® FlightPath I
Interview
UPS First
Officer
Position
Ups Flightpath Intern
12 months
Train on a specific fleet (B747, B757/767, A300 or MD-11) in aircraft systems, cockpit flows/procedures and SIM training sessions
Successfully operate full motion simulator to support customer tours and flight testing purposes
Perform the responsibilities tasked in the airline operation department
Receive recommendations by UPS management team to transition to AMF
Acquire 500 hours total time
Ameriflight Pilot Stage
30 months
Pair with UPS Pilot to receive mentoring throughout time at AMF
A type rating from Ameriflight with an additional 1,500 hours turbine PIC for Ameriflight, with preferably at least 500 of those PIC hours in the EMB 120 aircraft or other crew type certificated aircraft
Receive recommendation based on overall performance at AMF by both the Chief Pilot and Director of Training
Pass Hogan Assessment
Obtain ATP license
Qualifications & Notes
Qualifications
Commercial Pilot Certificate with Multi-Engine and Instrument ratings
Graduated within the previous 24 months, or currently enrolled as a junior or senior in an undergraduate or graduate program
3.0 GPA or higher
Notes
Before being hired at UPS Airlines as a pilot, candidates will be required to meet or exceed all other posted UPS First Officer requirements. The candidate will be required to successfully complete the hiring process of UPS Airlines, including, but not limited to, a pilot application, employment records review pursuant to PRIA, and the interview process and simulator evaluation.
Subject to change with approval from UPS and Ameriflight.
Applications for our Flightpath I program are currently closed. Please check back regularly for future updates.
Option 2:
UPS® FlightPath II
Interview
UPS First
Officer
Position
Ameriflight Developmental Stage
24 months
Obtain ATP License
Flying AMF Type rated equipment and candidate is dual rated
One of the following:

Check Airman
Instructor
Management role

Employee in good standing; no discipline or dependability problems
ACP (Accelerated Captain's Program) Mentor
Bachelor's degree preferred
Personal/Professional Development
Verifiable activities to foster leadership abilities, expert industry skills, and personal growth. Examples include (but not limited to):
Graduate degree or certificate
Foreign language training
Leadership training or seminars
Current volunteer for charity/non-profit organization
Public service or public office
Military reserve or National Guard
Additional non-work-related aircraft ratings
UPS Development & Mentoring Program
12 months
Meet or exceed the UPS First Officer's basic qualifications
Minimum 1,000 PIC hours in fixed-wing jet and/or fixed-wing multi-engine turboprop per 14 CFR 1.1
International experience preferred
Receive recommendation based on overall performance at AMF by both Chief Pilot and Director of Training
Mentee in UPS Mentoring Program
Observe UPS line operations while jumpseating on UPS aircraft
Complete online UPS FlightPath Development courses, including Jet Transition course
Pass Hogan Assessment
Apply for F/O at UPS
Qualifications & Notes
Qualifications
Minimum 1,000 hours, Turboprop Captain (obtain by end of program)
Bachelor's degree or started in bachelor's program
Employee in good standing; no discipline or dependability problems
Candidates are selected by Ameriflight internally
Notes
This outline represents a 36-month path with required benchmarks, from Ameriflight entry into program to interview with UPS Airlines. Existing Ameriflight employees may receive credit for months of employment and achieved benchmarks, including:

A pilot employee with 20 months of service already holding an ATP, type rating, and a check airman letter may be allowed to complete the program in 18 months
A BE-99 rated pilot with 30 months of service, service as an instructor pilot, and an associate degree may begin the program at the 12-month mark

Before being hired at UPS Airlines as a pilot, candidates will be required to meet or exceed all other posted UPS First Officer requirements. The candidate will be required to successfully complete the hiring process of UPS Airlines, including, but not limited to, a pilot application, employment records review pursuant to PRIA, and the interview process and simulator evaluation.
Subject to change with approval from UPS and Ameriflight.
Apply Now

UPS
Airlines fast facts
Daily network of 500 aircraft that reach nearly 700 destinations in over 220 countries
One of the world's largest, safest and most on-time airlines
A pioneer in developing aviation technologies to enhance the safety and efficiency of the aviation industry
Benefits & Compensation
Wage

UPS offers competitive pay calculated on the credit hours and flight experience completed at the time of hire. Interns will be allowed 2 paid discretionary days per semester.

Travel

Interns who qualify under the TSA background check will have the opportunity to use UPS jumpseat privileges for UPS business travel.

401(K) Plan

UPS interns are eligible to participate in the UPS 401(k) Savings Plan. UPS will contribute 50% of up to 6% of eligible pay to their UPS Savings Plan.

Employee Discounts

Enjoy discounts with an approved list of companies in different cities around the country.
A REFLECTION FROM A FLIGHTPATH INTERN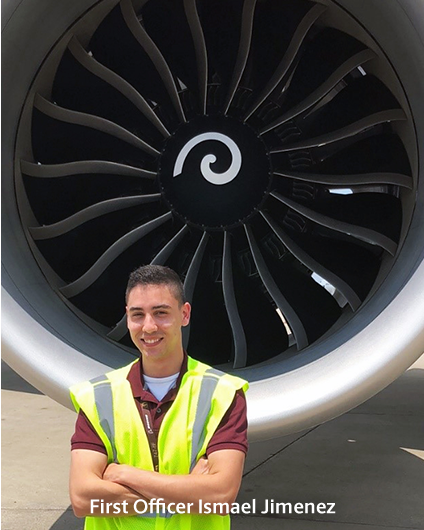 Since he was little, Ismael Jimenez always dreamed of becoming a pilot. The UPS® FlightPath program gave him a huge boost toward his goal. Jimenez just concluded his Flight Operations Technical and Safety (FOTAS) internship with UPS. Now, Jimenez looks back on an amazing life journey that has taken him from Puerto Rico, to Florida, to UPS and, eventually to the pilot's seat of a jet liner. Here's his experience in his own words:
"The UPS® FlightPath Program has been great! Looking back at the year I spent as an intern at UPS, I can only think of the amazing opportunities and the great group of people I was able to work alongside. As a low-time pilot and aspiring UPS pilot, the UPS® FlightPath Program is an unparalleled opportunity that will set you up for success. The program has immersed me in the operation of a 121 cargo airline and has allowed me to see the operation from a front row seat.
Within the first month of arriving at UPS I participated in A300 systems training and was part of a new hire class with actual UPS pilots. It allowed me to learn about all the systems in the aircraft and later prepared me for the check-out to operate the simulator. Not only can we hop in the simulators and practice V1 cuts and approaches in IMC [Instrument Meteorological Conditions], we also have the opportunity to jumpseat and observe the crews in action from the flight deck.
A major highlight in my year-long internship was when the A300 safety pilot extended an invitation to jumpseat on the inaugural flight into Querétaro, Mexico. The opportunity allowed me to experience firsthand international operations in a non-English speaking country.
As my internship comes to an end I leave with a great wealth of knowledge and an even greater understanding of the airline industry. I look forward to the next 3-4 years of time building and cannot wait for the day I get to fly my first Browntail!"
Jimenez is now transitioning to Ameriflight as a First Officer on the Metroliner in Miami and hopes to return to UPS in the near future.
FROM FLIGHTPATH INTERN TO AMERIFLIGHT PILOT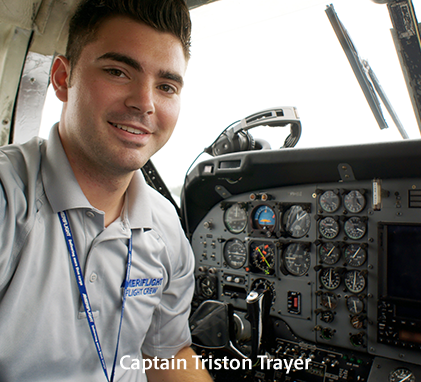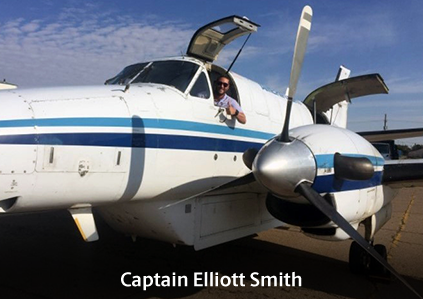 UPS® FlightPath interns learn a lot in their year with UPS and earn something even more valuable – opportunity.
After a year immersed in the culture and operations of UPS Airlines, FlightPath interns will have the chance to fly for Ameriflight. There, they will refine their flying skills and cultivate aeronautical decision-making aptitudes required of UPS airmen. After flying at Ameriflight, FlightPath candidates can earn enough hours to meet UPS minimums and interview for a First Officer position at UPS Airlines.
Many former interns are currently putting their skills to the test at Ameriflight, including Elliott Smith and Triston Trayer. Smith has been with Ameriflight since 2017 and is a Beechcraft 1900 Captain in Dallas/Fort Worth. He also gained experience in the Beechcraft 99 and Embraer Brasilia. Trayer has been with Ameriflight for about one year and is a Beechcraft 99 Captain in Portland, after formerly flying as a Metroliner First Officer.
Smith found the environment at Ameriflight to be a challenging but rewarding experience. "The experience has helped me develop both as a pilot and a person," says Smith. "Every day you will learn more about your skill set and build confidence as a pilot."
Trayer also believes he has grown as a pilot during his short time at Ameriflight, being able to "fly multiple aircraft in both single-pilot and two-crew operations, in a variety of weather conditions." Currently, the company flies four different aircraft types in its fleet. Pilots are based throughout the continental U.S. and in Puerto Rico, with each base offering unique challenges.
With the challenges come the rewards. "Being able to see smaller airports around the U.S. has been the coolest part of my job. Moving around a few times has allowed me to experience mountain flying, winter operations and some beautiful scenery," says Smith. Trayer similarly values exploring "the smaller areas of the country that I might not otherwise visit." Ameriflight serves as a feeder network to larger cargo airlines, such as UPS, in order to reach smaller markets where there is not sufficient volume to justify use of large jetliners.
Smith attributes his successes at Ameriflight to carrying a positive attitude as well as remaining flexible. He encourages those entering the industry to adopt a similar mindset. "The part 135 cargo world changes every day. Your patience will be tested, but having a positive attitude and flying as much as possible will help you achieve your goal of flying big jets one day." While Smith's airmanship has flourished during his time at Ameriflight, for him, there is no limit to learning. "In the airline industry you must always be on top of your game. Developing good study skills now and growing them will allow me to transition to large jets."
Trayer has cherished his time spent thus far at both UPS and Ameriflight. "As an intern, you will be able to see various areas of UPS Airlines and how they fit together to deliver millions of packages around the world each and every day. It truly is one of the most unique and exciting opportunities out there to get an inside look at the best cargo airline in the world," says Trayer. One of the highlights of his time at Ameriflight was his initial flying experience in San Juan, Puerto Rico, where he gained exposure to international flying across the Caribbean.
The FlightPath program allows participants to develop both personally and professionally. Both Smith and Trayer's experience in the UPS® FlightPath internship program and at Ameriflight are equipping them with tools for success in their pursuit of one day flying in brown uniforms at UPS Airlines.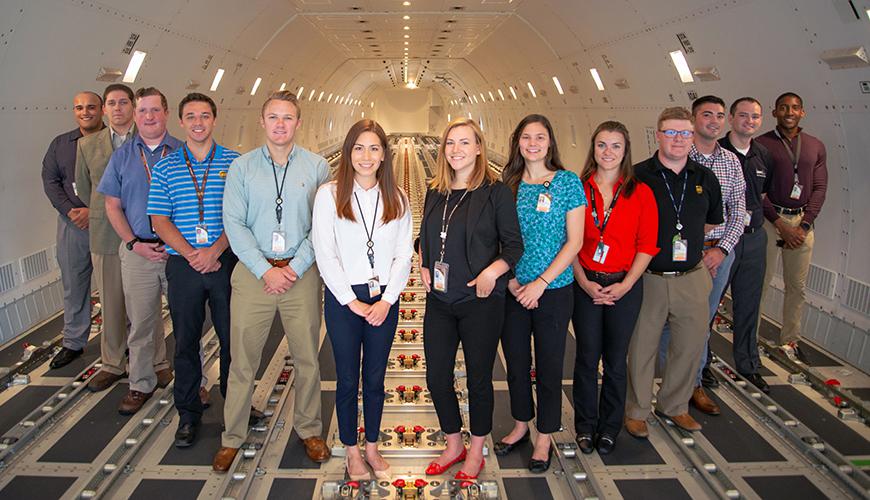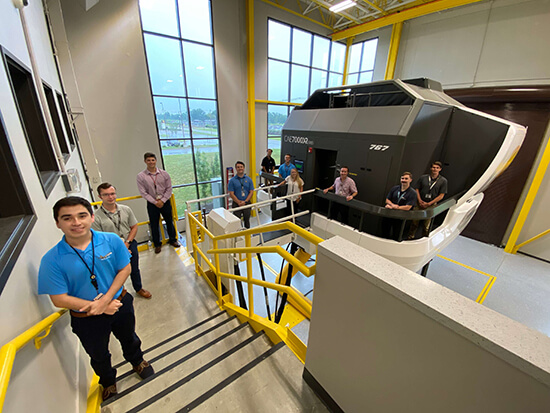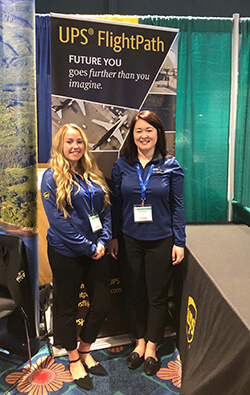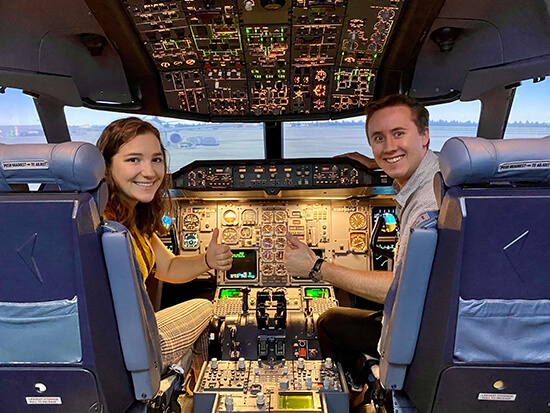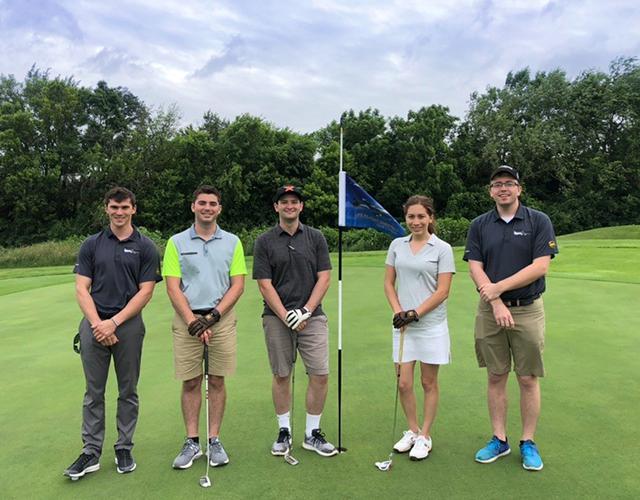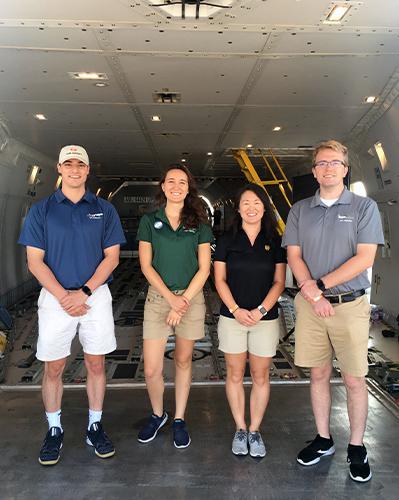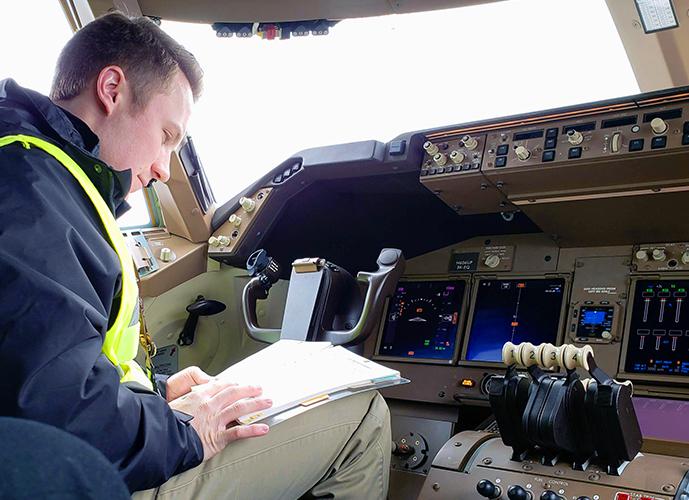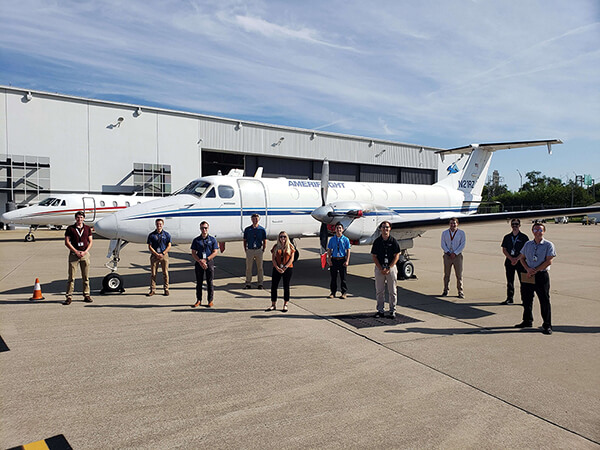 You'll work with world-class technology and learn all aspects of flight operations.
With nine UPS simulators in Louisville alone, you'll have ample SIM training opportunities.
UPS is a major sponsor of Women in Aviation, and the opportunities here are sky-high.
This A300 full motion simulator will put what you learn to the test.
Community events like this United Way golf scramble enable interns to have fun while giving back.
Interns get to represent UPS at major aviation industry events like Oshkosh.
Interns gain hands-on experience with the latest tools and systems.
Following completion of the internship, interns will fly for Ameriflight on their way to becoming UPS pilots.
Frequently Asked Questions
Here's the inside scoop on your most pressing questions.
What is UPS® FlightPath 1 All About?
UPS® FlightPath I is intended to offer participants outlined paths to gain Part 135 flying experience at Ameriflight and accumulate the flight experience needed to proceed to UPS Airlines, a Part 121 certificated air carrier.

By participating in Path I, UPS FlightPath Interns can take advantage of the unique hands-on experiences and develop highly desirable professional skills, all while working at a Part 121 cargo airline. UPS interns not only gain knowledge in their particular field, they also experience the culture that makes UPS home to some of the most sought after internship programs in the country. Interns gain experience in a business environment while UPS benefits from exposure to their diverse perspectives. Participants gain a multitude of skills that can transform them into accomplished pilots and aviation professionals while simultaneously impacting the airline's operation. In the internship program, one will be engaged in challenging work in a supportive environment that assists in career development as a potential full-time aviation professional.

UPS believes in relationship building in a culture that supports community service and sharing knowledge. In addition to increasing skills and knowledge, interns are exposed to a UPS culture that emphasizes personal integrity, quality work, knowledge sharing and a commitment to the communities in which its employees live and operate. Through volunteer activities and sponsorship of social events, UPSers collectively make a difference around the globe and encourage interns to join in this rewarding experience.

Individuals who successfully complete the internship program and are identified by UPS as eligible will work at Ameriflight as a pilot. Under the program, UPS actively mentors participating Ameriflight pilots. These pilots are encouraged to participate in UPS functions and learn from UPS Airlines' flight-qualified management and chief pilots.

The program affords UPS flight interns an opportunity to qualify for employment with Ameriflight and UPS Airlines, respectively, upon completion of outlined experience, training and hiring requirements. Ameriflight and UPS may offer employment to eligible pilots subject to their hiring needs, hiring standards and the program requirements.
Do I Qualify for Flightpath 1?
Currently hold Commercial Pilot Certificate with Multi-Engine and Instrument ratings
Graduated within the previous 24 months, or currently enrolled as junior or senior in an undergraduate or graduate program
3.0 GPA or higher
Must be a U.S. Citizen or National of the U.S., an alien lawfully admitted for permanent residence, or an alien authorized to work in the U.S. for this employer
Ideally have experience in Microsoft Office, strong teamwork skills, and ability to work in fast-pace environment while managing multiple responsibilities
When are applications open?
Application opportunities open intermittently throughout the year as positions become available. The application window is open for only a few weeks for any given opening(s).

Qualified candidates should sign up for job alerts to receive email notifications when a position opens. Simply provide your contact information, type "FlightPath" in the job category, and select a location (Louisville or Anchorage) to be notified when there is an opening.

Note, when the application window opens, there is no distinction on the application for which department-specific position is available. The one exception is the Anchorage-based internship as this requires a separate application. Otherwise, the candidate will be evaluated for the best fit amongst the available positions in Louisville if applying for a Louisville-based position.
WHAT OPPORTUNITIES ARE PRESENT AS A UPS® FLIGHTPATH INTERN?
The hours are primarily Monday through Friday, 0800 – 1700 (8 a.m. – 5 p.m.) with occasional evenings and nights. Eleven of the 12 intern positions are located in Louisville, Kentucky (SDF), and the 12th is located in Anchorage, Alaska (ANC). The Anchorage intern will split responsibilities between the B747 office and the Chief Pilot's office.

The UPS FlightPath internship position is a year-long, full-time opportunity. This position is offered intermittently throughout the year, and start times may be flexible.

*NOTE: When applying for the internship, the candidate is applying to be in the overall program, NOT to fill a specific position. The candidate will be evaluated for the best fit amongst the available positions in Louisville. Candidates for the Anchorage-based internship must specifically apply for it when it becomes available.
Shared Responsibilities
While each intern will have unique responsibilities within their assignment, all interns will share the following responsibilities and activities:
Conduct Business Development tours of the Flight Training Center for current and prospective customers, including full motion simulator sessions.
Attend career fairs, conferences, tours, and volunteer events.
Assist Flight Operations during peak season and on an as needed basis.
Click on each position below to learn more.
Chief Pilot's Office
One intern is assigned to the Chief Pilot's office in the Air Service Center in Louisville.
Assist the System Chief Pilot and Assistant Chief Pilots (ACP) with day-to-day flight operations and interact with UPS flight crews and assets.
Assist with the development, design and implementation of materials for the ACPs for better interaction and communications with flight crews.
Design, develop and publish graphic and multi-media content to brief and inform current operational information with flight crews during communication meetings.
Assist ACPs with crewmember accountability by monitoring various data streams and looking for trends potentially indicating the need for ACP follow-up.
Assist with the United Way, Global Volunteer Month business development efforts (Take Charge) for all 2,680 crewmembers.
Will assist the SDF Chief Pilot with managing the new hire program, arranging all details for welcome dinners and volunteer activities.
Assist with the recognition programs including retirements, service milestones and exceptional performance. Assists with tracking metrics for Aircrew Member of the Year, Community Service Award, and Aircrew Excellence.
Assist management with military leave program, ensuring UPS continues to provide unparalleled support to our military members.
Fleet Management
Four interns are assigned to the training office of their respective fleets, with the A300, B757/767 and MD-11 offices located in the Flight Training Center in Louisville and the B747 office in Anchorage.
Assist with all aspects of producing and distributing all fleet training materials, presentations and classroom materials.
Draw, design, develop and publish graphic and multimedia content used to train UPS flight crews.
Assist with audits by gathering, analyzing and reporting data.
Create fixed-base simulator lesson plans for training of UPS crewmembers and interact daily with instructors to ensure the highest quality of new training material.
Flight Operations Technical & Safety (FOTAS)
Two interns are assigned to the Flight Operations Technical and Safety office in the Air Service Center in Louisville.
Assist in developing, updating, formatting, printing and distributing gateway and airport information for Flight Operations.
Organize, format and create presentations used to communicate various flight, operational and company information to crewmembers.
Draw, design, develop and publish graphic and multimedia content used to train UPS flight crews.
Communicate directly with crewmembers, management pilots and other UPS staff in order to gather or distribute airport, flight, gateway and operational information. Organize and compile the data for distribution through various channels.
Program Development
Two interns are assigned to the Program Development office in the Flight Training Center in Louisville.
Assist in managing and developing computer based training for UPS Flight crewmembers.
Assist with analyzing proposed training projects to determine the appropriate level of training required to transfer the skills and knowledge to the target audience.
Organize studies and analyze training and operational data to test and support the proposed Instructional Situational Design (ISD) and validate the results.
Assist in managing learning content and crewmember assignments using the company's Learning Management System (LMS).
Communicate with crewmembers to assist in troubleshooting technical issues, primarily on the EFK.
Quality Assurance
Two interns are assigned to the Flight Standards Quality Assurance office in the Flight Training Center in Louisville.
Their duties will vary depending on department needs at the time of their internship. Past duties have consisted of, but are not limited to:
Assist with identifying opportunities for automation and implementing programming solutions to maximize the efficiency of current manual entries and quality assurance reports.
Help the department analyze the effectiveness of training programs across fleets by creating training survey forms for crewmembers and instructors and maintaining dashboards.
Upload and analyze data on events that occur on the flight line leading to operational impacts.
Perform mock sim ride interviews for certain applicants.
Create and format quarterly QA newsletter to disseminate to instructors and evaluators.
Maintain Intern SharePoint and UPS Jobs FlightPath website.
Assist other departments as needed.
Assist with organizing community service activities.
Gain exposure to SharePoint and Microsoft Excel functions such as PowerPivot.
Airline Safety
One intern is assigned to the Airline Safety Event Reporting (ASAP) team and Flight Operational Quality Assurance (FOQA) Program offices in the Flight Training Center in Louisville.
Assist the Airline Safety department in administration of ASAP, FOQA, and Airline Safety Event Reporting programs.
Learn the Event and ASAP reporting system to assist in classification and assignment of reports submitted by crew members, maintenance, etc.
Complete data requests for management and others and maximize efficiency by implementing solutions to automate current reports and processes.
Review flight data with the FOQA Analyst and Gatekeepers.
The intern will also be able to sit in on Safety Action Group (SAG), Data Analysis Group (DAG), Safety Action Forum (SAF) meetings, and Event Review Committees (ERC), which involves the FAA, Independent Pilot Association (IPA) and management.
The Airline Safety intern will also assist with miscellaneous projects as needed.
What can I expect in fleet training?
Each intern is trained on a specific UPS fleet: the B747, B757/B767, A300 or MD-11. The training includes aircraft systems, cockpit flows/procedures, and simulator training sessions. Once training is complete, interns are assessed and then authorized to operate the full-motion simulators for their fleet and in support of customer tours and flight testing purposes.

Interns participate in the first phase of the training footprint that crewmembers complete on the way to becoming qualified on an aircraft. This gives interns a preview of UPS's rigorous training environment and provides the opportunity to train alongside UPS pilots. By training in a specific fleet, interns will learn more about the UPS Flight Training Center as well as gain firsthand knowledge and experience on what it takes to be an airline pilot. With the exception of Fleet Management interns who train on the fleet of their respective offices, interns may train on any fleet (B747, B757/767, A300 or MD-11), but may be limited by class schedules and availability.

Interns will complete the knowledge phase of the training footprint, learning about aircraft systems and taking the exam at the end of the phase. The length of the class varies by fleet, but takes approximately 2-3 weeks to accomplish. Interns may progress further in the training footprint if they wish, and participate in the procedures phase of training. This includes using the interactive touchscreen displays representative of the aircraft cockpit to learn about functionality as well as flows and procedures.
How do I build flight time/remain current during my internship?
In order to progress to Ameriflight following the conclusion of the internship, interns must receive recommendation from the UPS management team and meet Ameriflight's minimum flight time requirements. Interns must have accumulated at least 500 hours of total flight time, in addition to other categorical hour requirements as outlined by Ameriflight. Most interns are Certified Flight Instructors (CFIs) and instruct at local airports to build their time. While other interns have accumulated hours through aircraft ownership or club rentals, it is recommended a candidate possess a CFI certificate prior to beginning the internship as this is generally the fastest option to build hours.

The internship is a full-time job, 40 hours per week. It is the responsibility of the candidate to build their flight time outside of the internship. UPS is not responsible in funding nor providing flight hours, aircraft, or a flying job/flight students to interns. Supervisors understand building flight time is a critical component of the program and provide flexibility in one's schedule to be able to successfully build the necessary flight time to qualify for the next step in the program.
What is the next step upon completion of the 12-month internship?
After successful completion of the internship program, candidates who receive a recommendation from their management team, and have at least 500 hours of total flight time (in addition to other categorical hour requirements outlined by Ameriflight), become eligible to move forward with Ameriflight. At Ameriflight, the largest Part 135 cargo airline in the nation, candidates receive additional training and exposure to the cargo world while accumulating valuable experience. Candidates also are paired with a UPS pilot to mentor them during their time at Ameriflight. After flying with Ameriflight for a minimum of 30 months after Operational Experience (OE), and successfully meeting the requirements set forth by UPS, interns are guaranteed an interview for a position as a First Officer at UPS Airlines (if hiring).

At Ameriflight, candidates may experience varying progression tracks while building the flight experience required to be able to interview with UPS Airlines. The track will greatly depend on how many hours the candidate comes to Ameriflight with as well as the company's needs. Interns joining Ameriflight will initially either become an Embraer Brasilia First Officer or join the Accelerated Captain Program (ACP) at the discretion of the company. Once the candidate qualifies for an upgrade, they will become a Beechcraft 99 Captain, with the opportunity to potentially transition to larger aircraft in Ameriflight's fleet or take on leadership roles at the company.

Ameriflight is an entirely separate entity from UPS and has the sole authority in deciding a candidate's track. While candidates who have completed their internship assignment will remain in contact with UPS as they progress through the program, they are solely Ameriflight employees and no longer UPS employees. UPS does not assume responsibility for continued progression through the program during the time the candidate is an Ameriflight employee. As a result, the amount of time it takes to build flight experience to qualify for a First Officer interview with UPS may vary.
Does UPS provide housing and relocation assistance?
UPS does not offer housing and relocation assistance. In addition, candidates assume full responsibility in housing and relocation costs for the duration of their intern assignment. Note, if applying for the Anchorage-based position, the cost of living is significantly higher than Louisville. UPS does not offer an adjustment in pay to interns that reflects variations in cost of living.
I applied and didn't hear back. What next?
If selected to move forward in the application process, you will receive a phone call for a pre-interview screening and invited for an interview. If you don't hear back, don't be discouraged! You are still eligible to reapply for future openings in the internship. When positions are completely filled, applications are occasionally held under consideration for future opening(s).
I have 500+ hours. Am I still eligible for Path I? Can I just go directly to Ameriflight?
Yes, you are still eligible for Path I and are encouraged to apply. However, you still must complete all of the program requirements, including the yearlong UPS internship. Path I does not offer the option to go directly to Ameriflight. You can elect to apply for a pilot position at Ameriflight (if hiring), but then become ineligible for Path I. Once at Ameriflight, you may still qualify for the FlightPath program through Path II, but must be selected by Ameriflight upon meeting qualifications.

Religious Accommodation Questions
If you still have questions after reviewing the FAQ's, please contact us at hrcompliance@ups.com.