Top 5 Reasons to Work at UPS
1. We're Focused on the Big Picture
At UPS, we believe being forward-thinking is not only an advantage, it's a necessity.
Simply put, we're committed to more, and we're committed to making a difference – when it comes to sustainability, we take it very seriously. We serve more than 9 million customers in over 220 countries and territories worldwide every day, and we're constantly striving to meet their needs with sustainable, innovative solutions. Sometimes that means collaborating with other organizations to tackle the toughest issues and take action. Sometimes it means focusing on us, cutting down on emissions (with alternative fuel and advanced technology vehicles) and setting ambitious goals (we plan to reduce our carbon intensity from transportation by 20% by 2020). We continue to learn and challenge ourselves.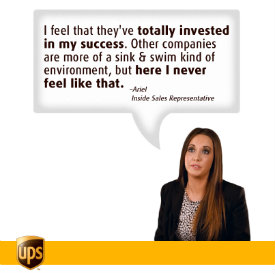 Talk about big picture – utilization of our Logistics solutions goes beyond solving business problems. We're using our innovation for the greater good, providing organizations we work with and the communities they strive to improve with technical know-how and expertise so they can thrive. Our teams are thinking big every day, considering the role we play in the global economy and strategizing ways we can influence and drive change.
Quick links:
Dive into our Longitudes blog to explore our big ideas
Take a look at our United Problem Solvers program, designed to help our customers implement those big ideas and reach new heights
At the end of the day, we believe in delivering a better world, and our people, no matter what position they have at UPS, are key to accomplishing that.
2. We're Driven by Innovation
Whether you're in IT or Package Handling, our constant focus on innovation allows us to streamline and improve everyone's job as well as deliver the best for our customers.
How exactly do we track up to 50 million packages a day? With an incredible IT team, for starters – and of course, nothing would be possible without the most innovative infrastructure for package handling, delivery and supply chain solutions. It also means providing our people around the world with the best tools to achieve their goals, help their customers and make a difference.
For drivers, our commitment to technology led us to recently develop new and improved Delivery Information Acquisition Devices (DIADs) as a single point of tracking for every package delivered. For Sales, our teams are utilizing new resources to meet our customers' needs efficiently and creatively. For everyone, technology is the most valuable tool at our disposal to redefine the way we (and the rest of the world) do business.
Innovators, big thinkers and creative types are welcome at UPS because, ultimately, we are only as innovative as our people. Explore an archive of insightful and compelling ideas from UPSers via our TED @ UPS gallery.
3. You'll Be Part of a Global Community
Our team is worldwide. Our customers are worldwide. Wherever you go, you'll find UPS: whether you're driving a truck around Los Angeles or at the HQ in Atlanta, you're a part of our family.
Considering the Inside Sales program? Our Sales teams are trained in:
Transitioning into a civilian career? Our Veteran Career Gateway is a one-stop shop for everything you'll need to know when starting at UPS.
The bottom line is: you invest in us, we invest in you, with benefits and perks to boot. Considering a Package Handler career? Learn more about the Education Assistance program. Is work-life balance important to you? Us too. We know there's more to life than what you do. And at the end of the day, we also know our people work hard. So we honor our people for their commitment and dedication to the organization, and strive to return the favor in any way we can.
We're not only committed to more for our employees and customers, we're committed to more for our communities, as well. We firmly believe it's important to give back to the people and communities we serve. Our team challenges themselves to go further, whether they're coordinating 263 relief shipments across 43 countries or are planting trees on Earth Day. In fact, our current goal is to reach 20 million volunteer hours by the year 2020, and we're well on our way, thanks to driven and dedicated UPSers worldwide.
Our dedication to community outreach dates back to the beginning, but it really got off the ground when UPS founder Jim Casey established the UPS Foundation in 1951 with a mission to build stronger and more resilient communities around the world. Since that time, volunteerism and community care have been embedded in the company culture. In 2014, we invested nearly 1.9 million volunteer hours and more than $100 million dollars into our global communities. For the past 30 years, we have worked to give back in partnership with United Way, an organization that shares our dedication to improving lives and strengthening the communities where we live and work every day. Since 1982, UPS and its people have donated more than $1 billion to United Way, becoming the first company to reach this philanthropic milestone.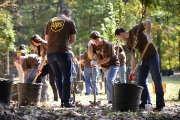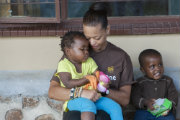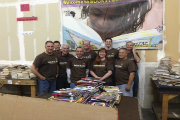 4. We Believe Support & Mentorship Are Key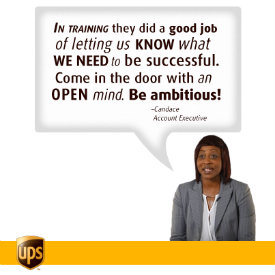 Support and mentorship are key to everyone's success at UPS. Professional development, continuing education and training opportunities are readily available for all UPSers. True education is an ongoing experience, and we want to make it as accessible as possible. For example, UPS University allows our people to develop and hone skills that will help them achieve success.
Many UPSers will tell you that one of the things they value most about the organization is the support they receive from day one. Mentors, coaches and peers are more than willing to guide you as you find your path at UPS.
5. It's Only the Beginning
UPSers are in it for the long haul. We've worked hard to provide a workplace focused on growth and development, promotion from within, diversity and recognition. We work to recognize employees who are looking to advance and offer them opportunities to grow. In fact, more than 70% of UPS management is promoted from within, and most of our senior leadership actually started out as part-time Package Handlers. So what we mean to say is that your first role at UPS is the beginning of an exciting journey – merely the prologue to a long and successful UPS career and an incredible opportunity to grow personally and professionally.
Join us in beginning something great. Your journey starts now.