Primary Location

1028 Industrial Park Road

, St Johnsbury, Vermont
Job ID VTSJO3
Full-Time
St Johnsbury, Vermont
Entry Level
$25 / hour
SHIFT YOUR FUTURE
Package Delivery Drivers

SHIFT YOUR TEAM
Who exactly are UPS Package Delivery Drivers? They're the ones who drive our familiar brown trucks, bringing packages great and small to our customers. They're a friendly, physically active crew who enjoy being outdoors, fast-paced work, and being behind the wheel!

SHIFT YOUR BENEFITS
What's in it for you?

• Excellent weekly pay
• Growth potential
• Extensive training
• 401(k)
• Defined-benefit pension plan
• Medical, dental, and vision after waiting period
o $0 healthcare premium
• Paid vacation
• And so much more

UPS full-time small package delivery drivers receive an average total compensation package of $145,000 per year. That includes $0 healthcare premiums, up to seven weeks of paid vacation, plus paid time off for holidays, sick leave and option days. UPS also makes contributions to a defined-benefit pension plan for each employee.

SHIFT YOUR SKILLS
So what does it take to make it through a busy shift delivering boxes of all shapes and sizes to homes and businesses in your community and beyond? Here are some examples:

• The ability to lift up to 70 lbs.
• Legal right to work in the U.S.
• Valid driver's license—no CDL required
• Pass the DOT physical
• Excellent customer contact and driving skills
• Package Delivery Drivers are expected to comply with UPS appearance guidelines and wear the company-provided uniform

Full-time UPS employees work eight or more hours per day and workdays can vary (Monday - Friday) or (Tuesday - Saturday) depending on the building needs.

SHIFT YOUR PURPOSE
So what is UPS all about? Well, you're probably already familiar with us – we're the brown trucks delivering everything from diapers and dish towels to holiday gifts, college care packages and life-saving medicines.

But we're more than that. We're also hardworking, efficient package handlers and friendly, focused drivers. We're professionals working in finance, IT, engineering, marketing, and more. We are building our business ethically, safely, sustainably, and in an environmentally conscientious way. And we are here to deliver what truly matters—to customers, communities, colleagues, the world, and you and your career. Come work for an award-winning company. Make the Shift to UPS.

This job posting includes information about the minimum qualifications (including the UPS Uniform and Personal Appearance Guidelines), locations, shifts, and operations within the locations which may consider my application. An applicant or employee may request an exception or change to, or an accommodation of, any condition of employment (including the UPS Uniform and Personal Appearance Guidelines) because of a sincerely held religious belief or practice.

UPS is an equal opportunity employer. UPS does not discriminate on the basis of race/color/religion/sex/national origin/veteran/disability/age/sexual orientation/gender identity or any other characteristic protected by law
UPS is an equal opportunity employer. UPS does not discriminate on the basis of race/color/religion/sex/national origin/veteran/disability/age/sexual orientation/gender identity or any other characteristic protected by law
Benefits & Career Advantages
Package Delivery Drivers get a full slate of benefits and rewards.
401(k)

Full Healthcare

Great Growth
Potential

Work for UPS directly, not a third party.

Extensive
training

Top pay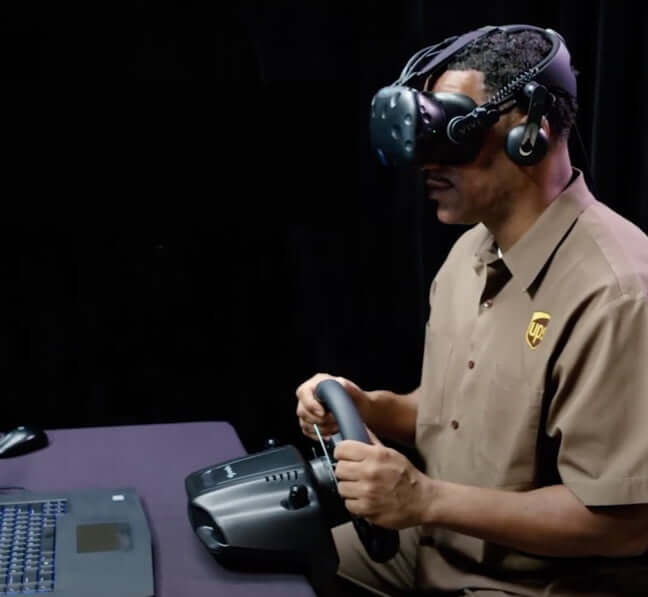 VR Driver Safety Training
Our virtual reality headsets vividly simulate the experience of driving on city streets while teaching a more memorable classroom lesson.
UPSer Story: Tammy
UPS Package Delivery Drivers can build remarkable bonds with the communities they serve. This is the story of 6-year-old Parson and her favorite UPS Driver, Miss Tammy.