In Case You Missed It: Ted@UPS 2016 Recap
"What if?" We hear this phrase all the time when people imagine the different scenarios if they would have just done that one thing or if they took that one chance. At UPS, we took "What if?" and turned it into the foundation that has built our company. This simple thought provoking phrase has inspired countless ideas and resulted in some big time solutions. When we push ourselves to think bigger and let go of boundaries, we can reach new heights. This is the type of thinking that encouraged 12 of our UPSers to explore the endless opportunities of "What if?" in our newest TED@UPS series. Are you ready to explore the world through a new lens? Let our TED talks take you there.
"What if music can touch your life? What if we can transport that sound that recalls lives and change throughout mankind?" John Bidden, UPS Package Driver and Independent Recording Artist, believes that music touches the soul and is a tool we can use to change the lives of others. Explore how music is a vehicle for John to inspire others in his TED@UPS presentation.
"And I hope the next time you feel like life's stacking a bunch of monumental obstacles from here till oblivion, you'll think, 'I can do that.' I have the power to be as audacious as any soap opera character." Kate Adams, Managing Editor of UPS.com, wanted to be a story teller from the time she was a little girl. It was this passion that brought her into the soap opera realm as the Assistant Casting Director for "As the World Turns." Kate hopes that people can learn to laugh and move past any life obstacle that may stand in their way. Learn more about Kate's mission to use soap opera lessons to craft our own stories.
"You can be proud of your passion and use that to embrace who you are." Marketing Manager Amelia Laytham is a first generation immigrant who rediscovered herself through her passion for traditional dances. In her TED@UPS presentation, Amelia will combine speaking and dance to represent her experience coming to this country. Discover how Amelia's passion for dance helped her find herself as a proud Indonesian immigrant.
"The developed world can learn from countries like India and how they approach innovation in doing more with less." Director of Healthcare Marketing and Strategy for UPS, Jan Denecker, is passionate about health care. His TED@UPS presentation will focus on what he believes health care systems can do better to secure affordable coverage for future generations.
"I hope to broaden your horizons and inspire you to look at the problems you face from a different angle." Kate Francfort, Specialty Pharmaceuticals Marketing Manager, recently took a trip to South America causing her rethink an urgent problem: how to supply remote areas with vaccines. Kate hopes to spark an idea in others with her TED@UPS presentation, and whether it's to solve the problem or not, she hopes it is a bridge for something bigger.
"It's about helping people be secure. It's about helping people be independent." Romaine Seguin, International Trade Expert, hopes that her TED@UPS talk will bring awareness to International Trade and show people that it's not just about money – there's a much more human aspect to it. Discover Romaine's passion about trade and how it can benefit the world.
"People being really curious about the normal parts of our day is what helps us create a better world around us." Mario Paluzzi, Senior Manager of Integration and Automation at Coyote Logistics, has always been a curious person. Explore how Mario's curiosity inspired his presentation on how we as individuals can improve upon right where we are to make the world a better place.
"Data can actually be like the 'secret spice' for improving humanitarian operations." Advanced Analytics Manager, Mallory Soldner, is passionate about ending world hunger and she believes that data can play a big part in solving this crisis. She hopes that her talk can inspire people to think creatively about how to end world hunger.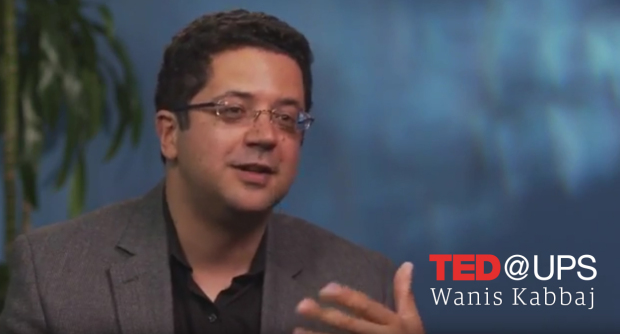 "What lessons can we learn from the blood in our veins to make transportation more efficient and sustainable?" Wanis Kabbaj, Director of Global Strategy in Healthcare Logistics is passionate about biology and transportation. Discover how Wanis connects these two subjects to healthcare in his TED@UPS presentation.
"I want to awaken the topic of abandonment and reclaim those who've been disowned or tossed aside by society's standards." Monica Johnson, Unclaimed Property Manager, is passionate about finding life after abandonment. Learn how Monica used her own experience of abandonment as inspiration to find her voice and help others.
"Do you think you know how your automobile was manufactured and brought to that dealer around the corner from your house?" Augie Picado, UPS Mexico Country Manager, hopes that his UPS@TED talk will educate people on the products being developed in Mexico and show how important the United States and Mexico are to each other.
"I think that emojis have a really important place in our history of communication, dating back to ancient times." Jenna Schilstra, Analyst in Customer Technology Marketing, hopes to surprise people with her TED@UPS talk and show people that emojis aren't just another phase, but rather serve an important purpose in communication. Explore her dive into what people may perceive as "lazy communication."
At UPS, we are lucky to be surrounded by so many innovative and inspiring individuals on a daily basis. These are the types of original and captivating ideas that propel UPS to think bigger and do better.