Reginaldo T.
Security Specialist
Brazil
Reginaldo started his career here at UPS in 2010. Within six months of being a UPSer he was promoted to the customer service department and after three months, he was promoted again and moved into customer service support, being responsible for the specialized export service. As a UPSer, he went through a selection in sales and soon after was invited by the operations manager for a new opportunity and accepted the new challenge. He worked in the delivery operational center in Brazil, managing people and taking care of deliveries, and was one of the UPSers who helped bring the COVID vaccine to Brazil. Nowadays Reginaldo is a Security Specialist, as he reapplied for an internal opportunity and was promoted. In this role he is responsible for investigations, risk mitigation, and company security monitoring. He says that every morning he wakes up motivated to work, to do what he loves and help people.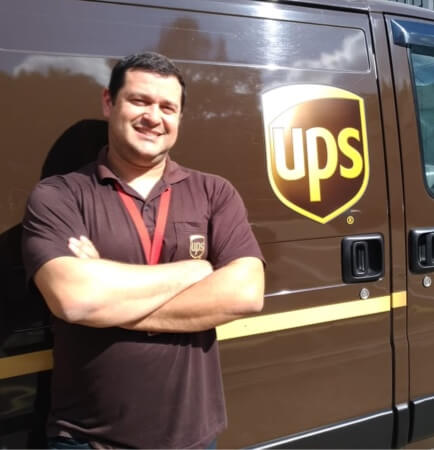 Q&A with Reginaldo
What makes you stay at UPS?
UPS is a company that gives opportunities regardless of the area. I still have many chances to grow here, and I plan to continue because I don't want to stay in my current position forever. I liked it here so much that my brother even works in another area at UPS. I enjoy doing my job well and showing the world the difference in better service – because of UPS. UPS promotes diversity campaigns - be it gender or religious. The service area is very diverse and here we do not treat anyone with indifference.
What makes you proud to be a UPSer?
It's a company that makes a difference in people's day-to-day lives with important deliveries. Besides delivering what is important, here we take care of people. The employees are not machines, and you have to know how to deal with the feelings of each one of them. Being able to help UPSers and make deliveries is amazing. Bringing the COVID vaccine to Brazil gave me a lot of pride, knowing that I participated in this moment confirms that we deliver what matters. Every day we help people and make companies grow and progress with deliveries.
How do people react when you say you work at UPS?
Here in Brazil, UPS is still not a very well-known company, but people that work in the logistics sector think it's interesting when I say that I am a UPSer. For me, being part of the team responsible for receiving the COVID vaccine here in Brazil says a lot about the pride I have and want to pass on to my friends.