Carlos P.
Sales Support Supervisor
Mexico
Carlos started his career at UPS seven years ago. He believes a lot in the company and thinks the way customer relations are handled is very professional. For him, the fact that UPS cares about people as well as business is a source of great pride.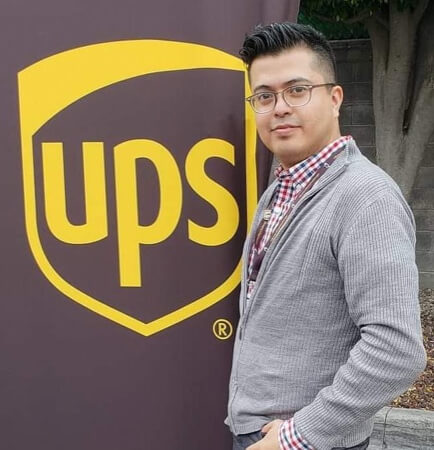 Q&A with Carlos
What is a UPSer's routine like?
I'm a Latin America supervisor, helping the sales team to find more opportunities and by passing along information so they can create a strategy. I help generate more business.
What makes you stay at UPS?
It was my first job. I entered to cover a maternity leave and I liked it a lot and then I was hired. At UPS you have the freedom to be yourself, to express your ideas. You are listened to and all this make us comfortable to share many creative solutions. Every day we see different things by communicating with our colleagues all over the world. We feel that we belong to a huge family that is always there to encourage us to do our best.
What makes you proud to be a UPSer?
The company doesn't just worry about having more business, but they care about the community, the people. The doors are always open, no matter the hierarchical levels or academic titles. Here you can learn and give ideas that are all welcome, and this is very beautiful.
How do people react when you say you work at UPS?
UPS is very well positioned. Many people know about the famous trucks, and when I say that I work here it generates a very positive reaction. It is a global, large, multinational, and well-known company.