Sherry S.
International Director of Freight
China
UPS is an organization that keeps exploring ways to do things better, smarter, and faster and encourages everyone to think creatively and to be open to change. That means constant breakthroughs and progress for the business and for their careers—which is a big part of Sherry's two-decade journey here. But the impact goes beyond that. In 2020, at the height of a global pandemic, where Wuhan, China urgently needed access to mask supplies, her team worked swiftly to expedite delivery amid restrictions and limitations. To her, that's truly an example of delivering on the company purpose statement of "We move the world forward by delivering what matters".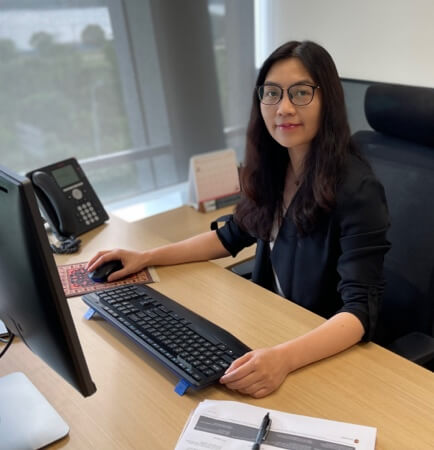 Q&A with Sherry
How would you describe your role to a friend?
I work in logistics and work across multi-modal transportation: air, ocean, and rail. I help moving cargo from point A to point B in a timely, economical, and safe way.
What is the biggest challenge of your role?
Working in logistics requires strong and fast problem-solving skills, as well as the ability to adapt quickly to current market trends. From a company perspective, the biggest challenge is being better than competing companies, which requires us to be more efficient to meet customer needs, which in turn helps us grow as a business.
What makes you proud to work for UPS?
UPS always encourages employees to think differently, be creative and lead change and is always striving to be a better company, never settling for the status quo. This approach presents UPSers with lots of opportunities to learn and grow in their careers.
What is your short-term goal with UPS?
I want to take on more challenges, improve my performance and prepare myself for the next step in my career journey.
How would you describe your personality?
I am a good communicator, effective at engaging with people in difficult situations and am a good listener. All this makes empathy one of my key personality traits, which fits well with being part of an organization and in a role that enables me to empower lives and businesses.