Laura C.
Business Manager, Small Package Operations
China
UPS is the first organization Laura joined after university, and she can see it being the only one she would ever need to explore. This sounds counter-intuitive for someone who's always looking to get out of the comfort zone. But if there's one thing she can count on at UPS, it's constant, exciting change. Over two decades, she's had the opportunity to work in distinctly different roles and functions, such as freight forwarding, engineering, and even security. There's simply no lack of opportunity to stretch herself. She's also finding great support in getting ahead in her career through programs and initiatives aimed at empowering women at UPS to thrive in their professional and personal lives.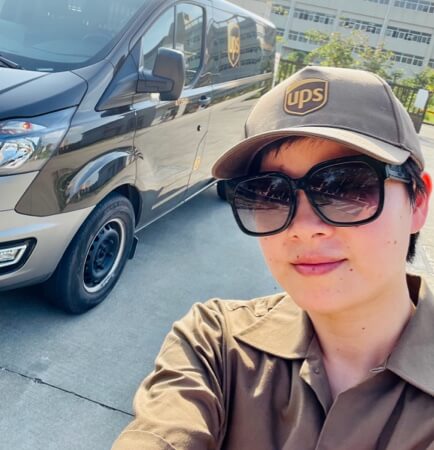 Q&A with Laura
How would you describe your role to a friend?
My job is to help with the shipment and delivery of packages from one end to another—locally and internationally. It is not as simple as just delivering packages—the aim is to deliver them safely and securely.
How do people react when you tell them you work at UPS?
In Asia, UPS is not as widely known as it is in the US, but it's still well known locally as one of the great companies in the world. Common reactions are, "Wow, this is a big company." I always feel proud to say that I'm with UPS.
What are some reasons you are staying with UPS?
The people and culture. People—we work well together, share a close relationship, and are like friends and family. There is a sense of satisfaction in working with the people here. Our CEO said: "When determined people are together, they can do everything." Culture—although I've never been to other companies, through communicating with clients and partners, I realize that UPS is a company that prioritizes developing people and integrity.
How would you describe your personality?
Optimistic—we face many challenges at work, but I always choose to focus on what we can get from overcoming these challenges. I'm a person with empathy and I have a desire to help people, which I feel is a good match with UPS being a service provider. I like and embrace change—it challenges us to find better solutions. UPS may be just one company, but it has given me the chance to experience all kinds of changes that help me grow.