Elena X.
Accounts Payable Manager
China
Elena scored an interview with UPS on her 21st birthday and has always felt it's her best birthday present ever. She has seen herself grow so much, as a person and a professional through the years, and the same can be said for the people she works with as well. People development is important to UPS, and they take pride in identifying and nurturing talent from within to take on bigger roles and responsibilities. And the UPS culture is great—she knows she will always find the help she needs to perform at her best, whether that is training and rotation programs or informal mentorship and day-to-day support from teammates and management. As a team lead, she is making sure her team has the resources to keep growing stronger as individuals.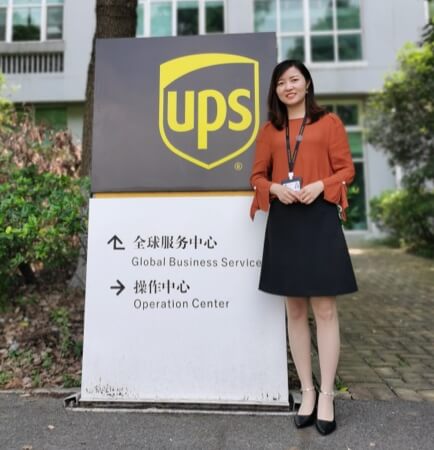 Q&A with Elena
How would you describe your role to a friend?
People development—this is very important to UPS and it's a big part of my role. Compliance enhancement – I ensure all payments are accurate and documented. I am also involved in process improvement.
How do people react when you tell them you work at UPS?
Wow, I know UPS.
What are some reasons you are staying with UPS?
UPS is a people-led company. This is where I grow and develop my career path as I gain different experiences and I see that it is the same for others too. UPS has a promote from within policy – if you are willing to develop yourself, UPS will certainly develop you. There are a lot of training programs in place, such as leadership development and new hire orientation programs that prepare you for a rotation in another department as a lead.
How would you describe your personality?
I enjoy jogging, reading, and going for calligraphy lessons with my six-year-old son; there's certainly work-life balance. As a mother, I hope to demonstrate the importance of hard work and continuous learning to my son. My son is proud of me.