Carina C.
Operations Excellence Staff Manager
Singapore
Carina has been working in and around engineering for the last 12.5 years at UPS. She has built a career working in different functions within it and has collaborated with teams across Southeast Asia, Australia, and New Zealand. More recently she has worked in operations and then moved into a Staff Manager position. Carina feels that these various positions allow her to evaluate challenges and opportunities for the company from multiple perspectives. This has been wonderful for her professional development. And the unique thing about people development at UPS is that it's really about the individual's preference. It's not always just about moving up—moving outwards to expand your exposure to different areas of your expertise is an equally great option.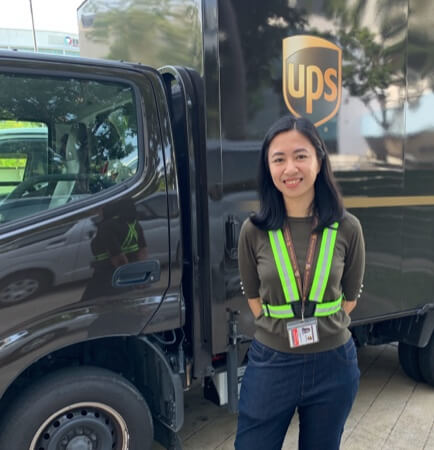 Q&A with Carina
What do you do as a Staff Manager?
It is part of the Engineering umbrella, and my portfolio covers service excellence, productivity, CAPEX project reviews. It is a regional role covering Asia Pacific, India Subcontinent, Middle East and Africa. We work with our district counterparts on multiple areas such as service enhancements, cost efficiencies, facility projects, etc.
What is unique about this role for you? What do you enjoy most about it?
It gives me a chance to work with a wide network of people as we cover a very wide geo. Both geographically and cross-functionally, there is a lot of opportunity to collaborate in providing better service to our customers.
How does it complement your previous experiences in engineering and operations at UPS?
My previous experiences allow me to evaluate issues and projects from multiple perspectives. I'm an engineer by training and we do a lot of planning and analysis. My operations rotation allowed me to see more closely the real challenges on the ground, from the front seat view. My current role allows me to zoom out and see the bigger picture from a broader perspective. It's a good balance, having that micro and macro view of the opportunities and challenges we have for the company.
What do you like most about growth and development at UPS?
It is a collaborative effort involving multiple parties: the direct superior, the function, the geo, and most importantly, the individual. The desire for growth and development needs to start with the individual, but it is also important to ensure there is a support structure that facilitates this growth and exploration.