Primary Location

5757 Clyde Park Avenue SW

, Wyoming, Michigan
Job ID MIGRN3
Part-Time
San Angelo, Texas
Entry Level
UPS is hiring individuals to work as temporary, seasonal Driver Helpers. This is a physical, fast-paced, outdoor position that involves continual lifting, lowering and carrying packages that typically weigh 25 - 35 lbs. and may weigh up to 70 lbs. It requires excellent customer contact skills and a lot of walking.

As a Driver Helper you will not drive the delivery vehicle but assist the driver in the delivery of packages.

Driver Helpers usually meet the UPS driver at a mutually agreed upon time and location each weekday. Workdays can vary (Monday – Friday) or (Tuesday – Saturday), both part-time and full-time, depending on the building needs. Hours vary but usually begin after 8:00 a.m. and end before 8:00 p.m. Driver Helpers must comply with UPS appearance guidelines.
Driver Helper seasonal opportunities are typically between the Thanksgiving and Christmas holiday time period.
This job posting includes information about the minimum qualifications (including the UPS Uniform and Personal Appearance Guidelines), locations, shifts, and operations within the locations which may consider my application. An applicant or employee may request an exception or change to, or an accommodation of, any condition of employment (including the UPS Uniform and Personal Appearance Guidelines) because of a sincerely held religious belief or practice.
UPS is an equal opportunity employer. UPS does not discriminate on the basis of race/color/religion/sex/national origin/veteran/disability/age/sexual orientation/gender identity or any other characteristic protected by law
Benefits & Career Advantages
Package Delivery Drivers get a full slate of benefits and rewards.
401(k)

Full Healthcare

Great Growth
Potential

Work for UPS directly, not a third party.

Extensive
training

Top pay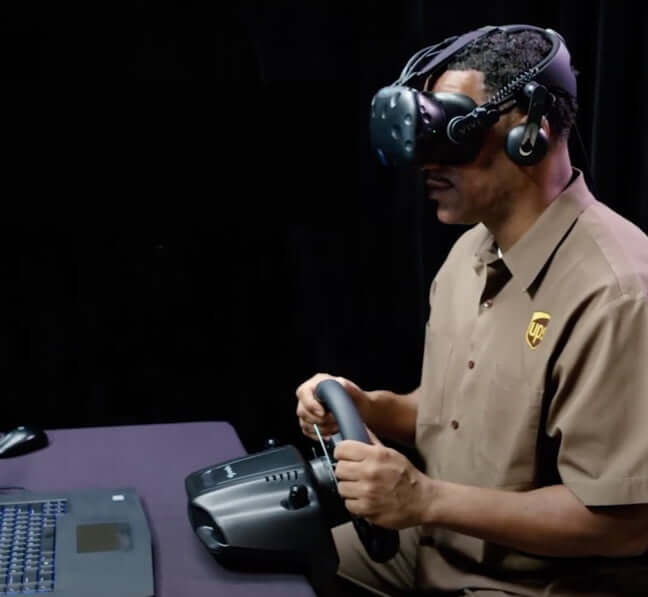 VR Driver Safety Training
Our virtual reality headsets vividly simulate the experience of driving on city streets while teaching a more memorable classroom lesson.
UPSer Story: Tammy
UPS Package Delivery Drivers can build remarkable bonds with the communities they serve. This is the story of 6-year-old Parson and her favorite UPS Driver, Miss Tammy.