FT Freight PU and Delivery Driver
Primary Location

1555 WEST 23RD DFW AIRPORT

, Dallas, Texas
Job ID TXDSD31
Full-Time
Dallas, Texas
Entry Level
UPS is recruiting individuals to work as Full-Time, Heavy Air Freight Pick-up and Delivery Drivers. This position involves the timely pickup, labeling, loading and delivery of shipments, using the equipment, policies and procedures required by the company. Qualified applicants are required to have a valid class A Commercial Drivers License with a HazMat endorsement. Candidates are required to pass a UPS road test, DOT physical exam and a drug screen. Heavy Air Freight Pick-up and Delivery Drivers must have excellent customer contact and driving skills, including the ability to operate a vehicle equipped with a standard (manual) transmission, lift gates and other material handling equipment. This position could involve driving a tractor-trailer unit to one or more customer locations and returning to the original domicile during the same shift. Heavy Air Freight Pick-up and Delivery Drivers are expected to comply with UPS Cartage Services appearance guidelines. Individuals should be able to work without immediate supervision.

UPS offers a very competitive benefits package including excellent starting wages, paid vacations, medical, dental, vision and prescription coverage for employee and family and a 401(k) plan.
This job posting includes information about the minimum qualifications (including the UPS Uniform and Personal Appearance Guidelines), locations, shifts, and operations within the locations which may consider my application. An applicant or employee may request an exception or change to, or an accommodation of, any condition of employment (including the UPS Uniform and Personal Appearance Guidelines) because of a sincerely held religious belief or practice.
UPS is an equal opportunity employer. UPS does not discriminate on the basis of race/color/religion/sex/national origin/veteran/disability/age/sexual orientation/gender identity or any other characteristic protected by law
Benefits & Career Advantages
Package Delivery Drivers get a full slate of benefits and rewards.
401(k)

Full Healthcare

Great Growth
Potential

Work for UPS directly, not a third party.

Extensive
training

Top pay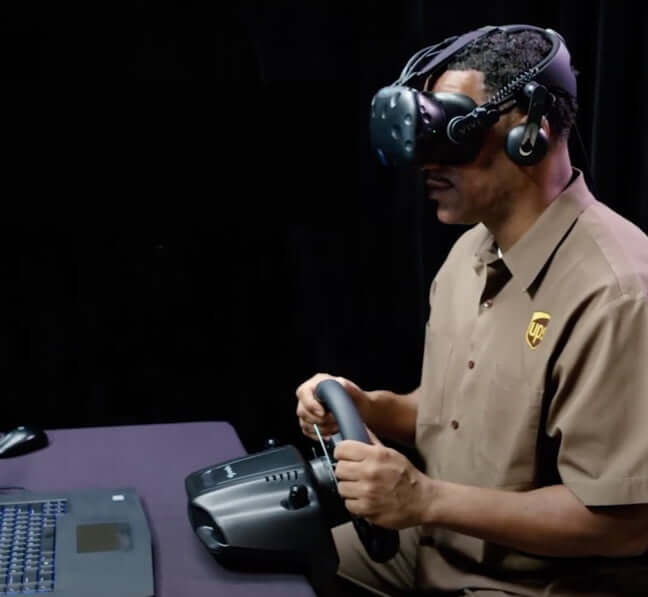 VR Driver Safety Training
Our virtual reality headsets vividly simulate the experience of driving on city streets while teaching a more memorable classroom lesson.
UPSer Story: Tammy
UPS Package Delivery Drivers can build remarkable bonds with the communities they serve. This is the story of 6-year-old Parson and her favorite UPS Driver, Miss Tammy.