Interested in taking on a new and exciting endeavor in Greenville? The UPS Greenville office is home to one of three sites for our team of Inside Sales Representatives. Join our diverse team of Sales professionals as they serve as consultants and trusted advisors, delivering cutting-edge innovation and expertise to customers and entrepreneurs around the nation.
Search Sales Jobs
Quick Facts
Population
Greenville is home to about 62,000 people and is part of the fastest growing metropolitan area in South Carolina. It has also been recognized in CNN Money magazine as one of the "Top 10 Fastest Growing Cities in the U.S." and in Bloomberg as the 3rd Strongest Job Market in 2010.
Weather
This region of South Carolina has four distinct seasons. Winters are mild, springs and autumns are generally dry, and summers are hot and humid. The temperature in January averages 42 degrees, and in July it averages 79 degrees, giving you plenty of beautiful days to enjoy the outdoors.
Culture & Attractions
Art is alive in Greenville with a growing cultural scene, 60 works of public art, venues for performances from nationally touring acts and the award-winning Greenville Symphony Orchestra. You will also find a growing culinary and entertainment scene in downtown Greenville. The pedestrian-friendly downtown area is home to more than 120 restaurants and 100 retailers. You can also find great eats and shops throughout Greenville in the Augusta Road, Haywood Road and Magnolia Park areas.
Even on days when the weather isn't as friendly, you can spend time exploring one of the many museums or galleries throughout town. However, when the sun is shining, you will want to spend your time traversing the paths of Swamp Rabbit Trail, Falls Park, Cleveland Park, or Legacy Park, or spend a lazy day at the Greenville Zoo.
Transportation
Getting to Greenville is as easy as flying in to the Greenville-Spartanburg International Airport. From there, it is just a quick drive into the center of the city. And if a bicycle is your preferred transportation in Greenville, there are plenty of paths and BikeLid lockers for your convenience.
In the Office
Join our team of Sales professionals in the Greenville office and you'll find yourself part of a collaborative and enthusiastic group, always willing to brainstorm to solve a customer problem or help you work through a challenge. Eager to explore Greenville? Our team truly understands the importance of work-life balance, so start imagining what hobbies and activities you'll get into next.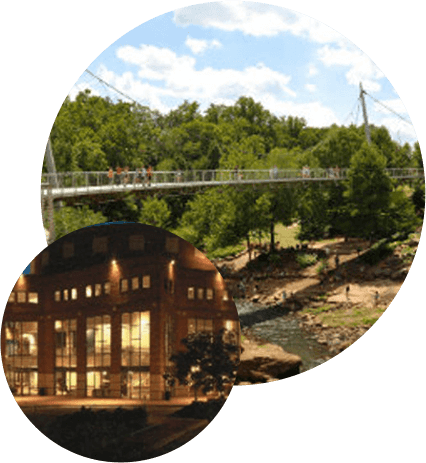 See what's happening in Greenville, SC
Falls Park on the Reedy:
The centerpiece of the city, Falls Park is a beautiful oasis located in the center of downtown. The park is on the banks of the Reedy River and features sculpted lawns, pristine flower beds and flowing falls. The Liberty Bridge is a must-see. The bridge spans the Reedy River Falls and adds a touch of modern architecture to the park.
The Peace Center for the Performing Arts:
Hosting major productions on three stages, the Peace Center is the hub for performing arts in Greenville. You will enjoy performances in the 2,100-seat concert hall, 400-seat theatre, or even the outdoor amphitheater. There is also Genevieve's lounge for pre-performance drinks and food.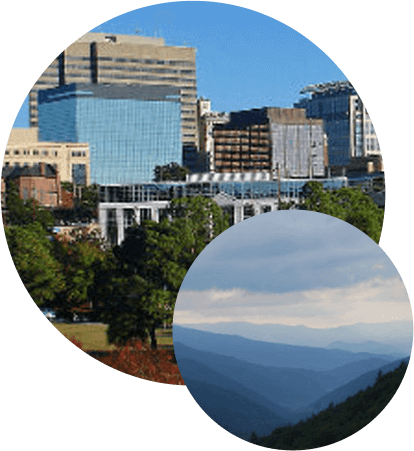 And beyond Greenville, SC
We are located a mere hour and a half away from Columbia, the capital of South Carolina. The largest city in SC, Columbia offers a great, nearby getaway full of the best in shopping, dining, and historical landmarks. The attractions, activities and resorts of Myrtle Beach are only 250 miles away.
For the outdoorsman, Greenville is located just east of a collection of forests, including Nantahala National Forest and Chattahoochee National Forest, and southeast of Great Smoky Mountains National Park. So, you can pack your bags for a weekend of exploring, while staying close to home.
Get Job Alerts
Take another step towards your career at UPS