Tammy B.
Division Manager for Customs Brokerage
Canada
During her 27 years with UPS, Tammy has developed an exciting career in which she has been instrumental to helping grow and expand the business. She has held various roles that have all contributed to her enjoyment of a diverse career with endless potential for growth. For Tammy, UPS is a place where you learn something new every day and there is no room for boredom.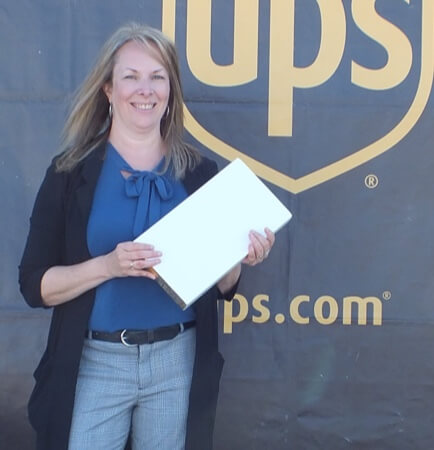 Q&A with Tammy
When you tell people you work at UPS, what is their reaction, typically?
It's much different today. We've built a great reputation locally within the community of Frederickton, New Brunswick. They are typically complimentary and talk about how invested we are in the community and thank us for our support of the local community, both through financial campaigns and a tremendous amount of volunteering that our UPS employees do.
What role did you start in at UPS and how did you end up where you are now?
When I started UPS in 1995, I started in an entry-level position–it was our Customs Brokerage Rating position–in which I was responsible for assessing duties and taxes for shipments coming into the country and ensuring they were submitted to customs accurately and compliant with all Canadian rules and regulations. Within two years, I was promoted into management and became a supervisor for the group of employees I started with and an inside sales group. In 2004, I was promoted into a management position. At that point, I was a manager here locally for a couple of years, and had the opportunity to move functions. Advancing my career was very important to me, and I was interested in doing other things with UPS. My manager at the time put my name forward and I had a transfer to our consolidated accounting site. I was a manager there for a couple of years, then I was promoted to Controller for that site. That was a really exciting and challenging opportunity along my career, and I spent seven years in finance and accounting doing various things. After I had my second child, I had the opportunity to return to Frederickton in my current capacity as the Division Manager and Director of the Brokerage Operation.
Can you describe a time you felt deep satisfaction doing your job?
One of the most memorable moments was when one of my employee's daughters won the Jim Casey Scholarship Award, which awarded her a significant amount of funding to pursue her medical degree over the course of that 5-year program. Being able to award one of my employees with that was very exciting for me to see the joy and the opportunity we were creating for this young woman to go out and continue her education and pave her way in the world. That was an incredible experience for me.
What do you consider to be the most important thing you do at UPS?
The most important thing that I do is lead my team and provide an example among an incredible group of employees to ensure they understand what they're a part of. Ensuring that, as a leader, my employees know and value the role they play in international trade is the top priority for me.
Most recently, we've been saving lives–literally, by delivering COVID-19 vaccines produced by Pfizer. My team is directly involved in the clearance of all of the Pfizer vaccines coming into the country. Our tagline right now is "moving the world forward by delivering what matters." I tell my team it doesn't get any more real in terms of delivering what matters than facilitating the clearance and delivery of the COVID-19 Pfizer vaccine. That's the most important thing I can do.