Tired of the same old jobs? If you're ready for something that will give you more significant rewards, the smarter route is at UPS. With our Earn and Learn Program, you'll get help with your college expenses — a bonus of up to $25,000 for part-time employees. You're focused on your future, and with the opportunities at UPS, we'll get you moving in the right direction.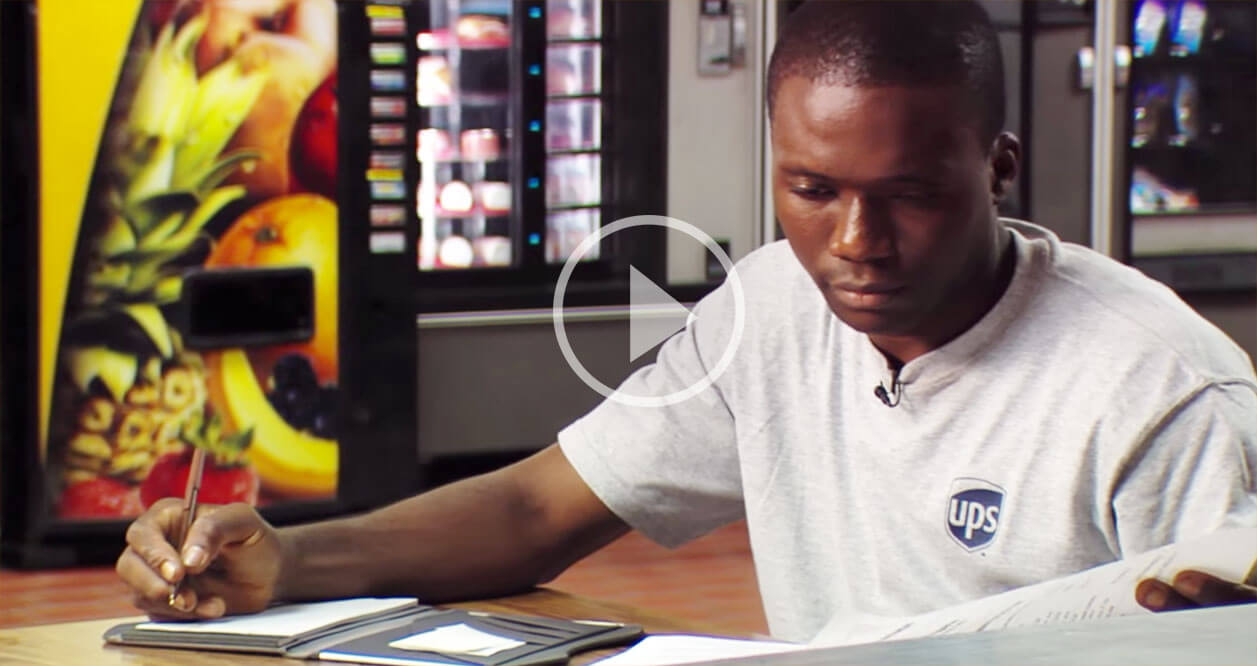 We encourage the pursuit and fulfillment of educational goals. See how UPS is committed to helping you meet yours.
Wouldn't it be great to earn $25,000 for your college education?
Join the UPS team in a part–time position and you can do just that — with the Education Assistance program. Available in most UPS locations across the nation, the Education Assistance program is just one way we aim to help employees make their world work better — by attaining their education and career goals.
Earn $5,250 in assistance per calendar year with a lifetime maximum of $25,000.
Eligibility begins the day you're hired and benefits are prorated accordingly in case you're hired mid–semester.
Did you know that most UPSers start their careers at UPS as part–time employees? That's right. The company's strong commitment to promoting from within means we're constantly training today's part–time employees to become tomorrow's executives.
In 2014, we provided $16 million in tuition support to approximately 14,000 students. Since the program began in 1999, we have invested over $200 million in tuition assistance for approximately 120,000 college students.
UPS also invests about $565 million a year on training programs to help employees further their careers within the company.
In 2010, approximately 56 percent of our current full–time drivers were once part–time employees, and more than 73 percent of our full–time managers (including most vice presidents) were once non–management employees. Our part–time workforce totaled 180,000 people at the end of 2010. During the year 2,642 part–time employees advanced to full–time work. Our management ranks at the end of the year included 1,174 employees who moved into management for the first time.
Metropolitan College
Metropolitan College is not a brick and mortar college. Instead, it is a partnership between UPS, the Commonwealth of Kentucky, the University of Louisville, and Jefferson Community and Technical College. The program requires that students work part–time in the UPS Air Operation in Louisville, KY. Participants in the program work in the 1DA (Next Day Air) operation with a start time between 10:00 p.m. and 4:00 a.m. in exchange for a free education at either of the two partnership schools. Benefits of the program, in addition to regular employee benefits, include:
Deferred full undergraduate in–state tuition
Book Reimbursement
Academic Bonuses
Student support at work
Student support on campus
Career Services
On–site computer lab
Learn more at metro–college.com
Search for jobs at UPS's Louisville location
Chicagoland Regional
College Program (CRCP)
The Chicagoland Regional College Program (CRCP) is a partnership program between the UPS Hodgkins facility and five participating colleges (Moraine Valley Community College, Chicago State University, Morton College, Prairie State College and Olive–Harvey College). Individuals that are accepted into the program attend one of these colleges and are available to work at UPS during the Sunrise (4am–9am) or Night (10pm–3am) shift as a part–time package handler. The program offers additional educational benefits to help cover their college expenses.
Learn more at crcprogram.com
Search for jobs at UPS's Hodgkins location
Working at UPS
Learn more about who we are and what makes working at UPS so rewarding.